Athletics-EC inspires new features for
MATHEATHLON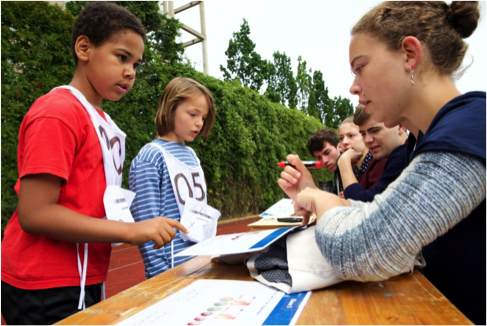 The MATHEATHLON was invented as a unique combination of sports and mathematics by the Research Center Matheon on the occasion of the World Championships in Athletics 2009 in Berlin. Since then it was performed many times each year at schools thoughout Germany and abroad. On the occasion of Athletics-EC that takes place from 7 to 10 Autust 2018 in Berlin, it has now been extended: Besides running, we now offer throwing and jumping, of course well combined with short maths tasks.

Thus, it fits very well into the program "Laufen. Springen. Werfen. Berlin." which has been set up by the Berlin Senate to bring athletics into society. With Schooletics it created a program especially for schools from all over Berlin.

On June 18, 2018, from 9:00 am to 3:00 pm, classes from seven schools will be attending the MATHEATHLON. On the grounds of the der Turngemeinde in Berlin 1848 e.V. at the Columbiadamm there will be three blocks of competition: 09-11 o'clock, 11-13 o'clock and 13-15 o'clock.

The MATHEATHLON is part of the extensive school activities with which the Matheon Research Center aims to bring both students and teachers closer to the exciting diversity of mathematics, not at least by providing insights into current research.

Our message is that math is in the midst of life, indispensable and fascinating - and math is fun.
Date/Time
:
2018-06-18
---
Back to overview »