Automotive
Design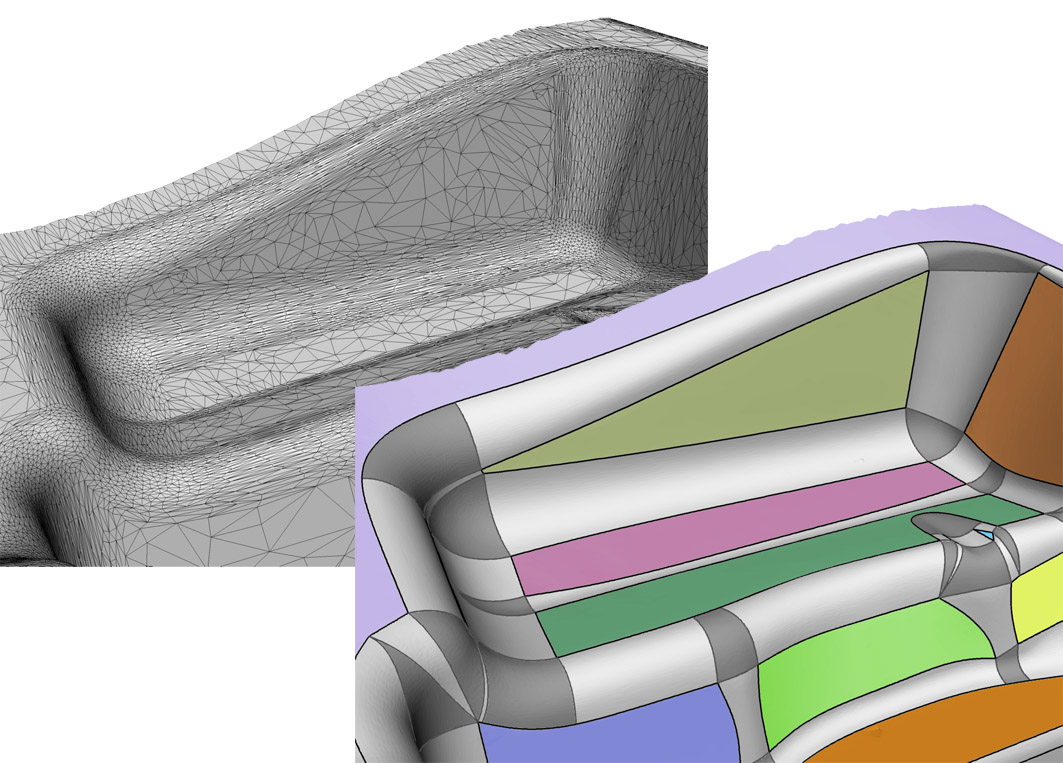 Reducing a surface in almost homogeneously curved areas
Modern geometry processing and computer-assisted geometrical design are a central basis for many industrial applications in the areas of CAD/CAM, modeling, design, reverse engineering, shape optimization through to robotics and scientific visualization.

Matheon

develops innovative methods using the latest mathematical results from differential geometry, algorithmic geometry, topology and numerical mathematics. In doing so,

Matheon

combines scientific excellence with long-standing expertise in the analysis and formulation of customized solutions for industrial applications. Our service spectrum ranges from problem analysis, consulting and algorithm development through to the development of software prototypes.

When it comes to optimizing the acoustics inside the vehicle in the design phase, the complete vehicle models are simulated in the computer and reduced models generated for the optimization.

Matheon

develops and implements modern solvers for large equation systems, both for non-linear acoustic simulation as well as for model reduction.
Engineering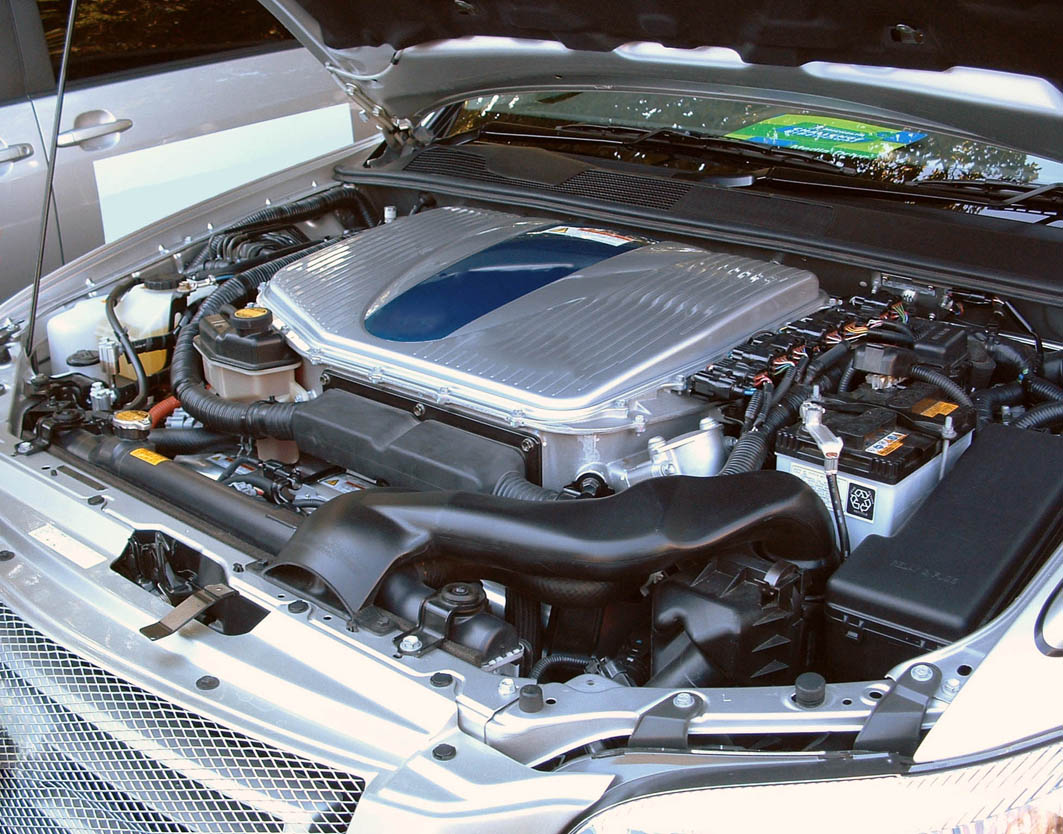 Hybrid drive
For the real-time model-based control of modern automatic transmissions it is necessary to create complete virtual models.

Matheon

develops modern modeling methods that are suitable both for model-based simulation as well as for control and optimization.

For the widespread deployment of electric mobility the availability of portable electric energy sources with sufficient power and capacity is crucial. Application-oriented mathematicians at

Matheon

and its associated fields are making important contributions to its realization in cooperation with the electrochemical industry.

Concerning electrochemical cells, detailed simulation models are set up and evaluated focusing on two major aims. One objective is to establish a better understanding of the interplay of the electrocatalytic reaction with fluid and material transport in fuel cells. In addition, new models have been developed to describe multiple-particle electrodes in lithium-ion batteries and for hydrogen storage in metal hydrides. At present, these models are the only ones in the world that can describe the reversible charging process realistically.
Production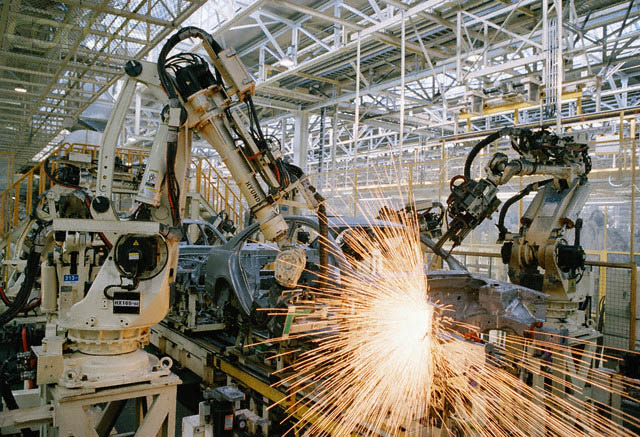 Robot welding cell
Due to the need for a permanent reduction of the time for development and realization of production systems, issues such as modeling, simulation, optimization and control as well as the virtual commissioning of complex production processes are becoming increasingly important.

Matheon

has tackled these requirements by setting up a dedicated "Production" Area. Our expertise in this area extends from the modeling and simulation of new materials (e.g. of multiphase steels) via the optimization of individual production steps such as welding, hardening or milling through to the simulation of process chains.

In this way, a fully automated application planning can be achieved for robot welding cells through innovative coupling of non-linear and discrete optimization strategies for the assignment of welding points and a collision-free path planning.

A particular strength of

Matheon

lies in the consistent application of newly developed and refined powerful numerical methods allowing for an optimum process design also for thin-walled three-dimensional component geometries and more complex non-linear material properties.
Logistics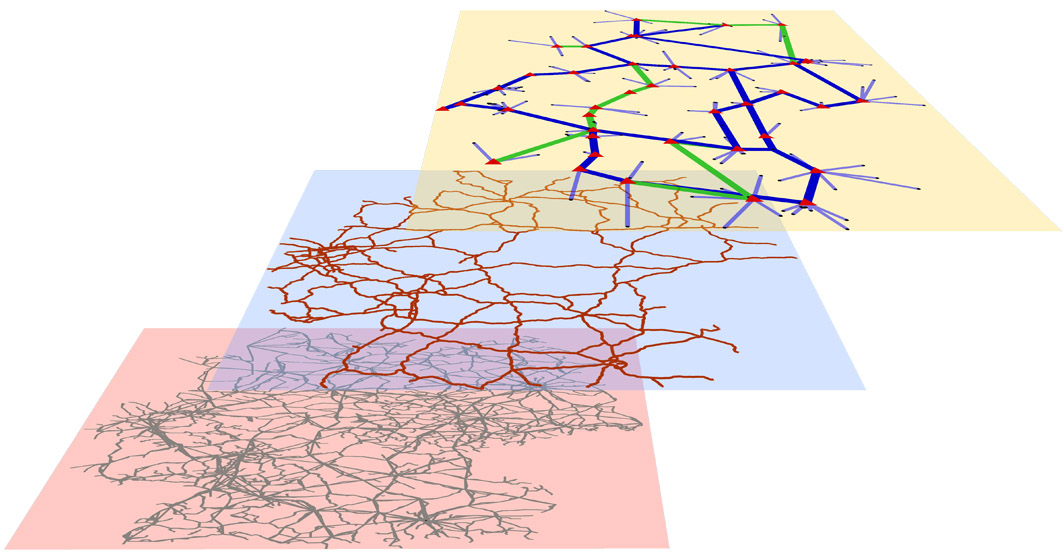 Inherent hierarchy of transport networks, as smartly used in
optimization methods
The key to fulfilling the requirements for logistical processes and structures in companies resulting from globalization and competition factors is optimization. Only in this way a reduction in transport and material flow costs, a better resource planning as well as the determination of the most cost effective supply and distribution networks can be attained. Despite rapid developments in computer technology, many optimization problems cannot be solved satisfactorily without sound mathematical insights.



Matheon

offers the use of tailored methods and analyses, resulting in intelligent solutions through to their implementation in software. We assure you utmost professional competence and consulting that takes into account the latest state of international research in transport and logistics.
References
We have already implemented successful projects for various practice-relevant subjects with a range of prominent companies in the automotive sector and areas directly related. A selection can be found here:
4flow AG
Bosch Rexroth AG
CST Computer Simulation Technology AG
Daimler AG
IAV GmbH Ingenieursgesellschaft Auto und Verkehr
LASERVORM GmbH
mental images GmbH
NVIDIA GmbH
Photon AG
pro-beam AG & CO. KGaA
PSI Metals GmbH
PTV Planung Transport Verkehr AG
Rücker EKS GmbH
SFE GmbH (Gesellschaft für Strukturanalyse in Forschung und Entwicklung mbH)
Tebis Technische Informationssysteme AG
ThyssenKrupp Tallent Ltd.
VOLKSWAGEN AG
ZF Friedrichshafen AG
Make the most of our expertise for a more efficient route to innovation!